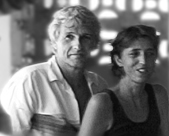 Claudia and Joe would like to welcome you to The Gambia, the smallest of all the African nations. Though English is the most commonly spoken language, Camping Sukuta is a truly international meeting place for all travellers.




Each season has so much to offer….the months of July to October (rainy season) are an ornithologist's dream. Beautiful flora and fauna provide a stunning backdrop to over 600 species of birds.
The months of October to May offer warm nights and sunny, bright days. Camping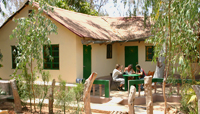 Sukuta is ideally located, 2km from endless beautiful beaches and yet only 7km from the bustling market town of Serrekunda. The capital, Banjul, is easily reached, only 25km away.
A peaceful haven, our 6000sq m compound is landscaped with tropical gardens. Palms, mangos, eucalyptus, malayna and orange trees provide a lush background to a multitude of native blossoms
.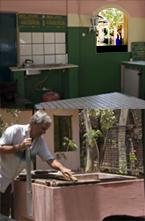 We offer 17 rooms to meet all needs, from suites to singles with en-suite facilities, you are certain to be comfortable.
As a long- standing favourite of overland travellers, our ample camping pitches and 'guest kitchen' facilities are a welcome bonus. Offering cooking facilities as well as a barbeque area, surrounded by seating, this is a wonderful place to swap traveller's tales and experiences.
Our restaurant caters for breakfast, cold drinks and snacks and a daily changing dinner menu with dessert. Our shop is a treasure trove of locally made crafts, postcards, drinks and the hundred and one things that the traveller requires.
Our partner company, SUKUTA CAR PARK, offers secure long-term parking as well as offering opportunities for the sale of your vehicle should you wish. This well- established company will take care of all arrangements efficiently, leaving you to relax and enjoy your time with us.
Other Services we offer include:
Airport Transfer for our arrival and Departing Guests (At small Charge)
Car Rental
Bicycle Rental
Money Transfer
Transfer to Banjul - Barra Ferry / Brikama and Casamance (Senegal)
- And a lot More -